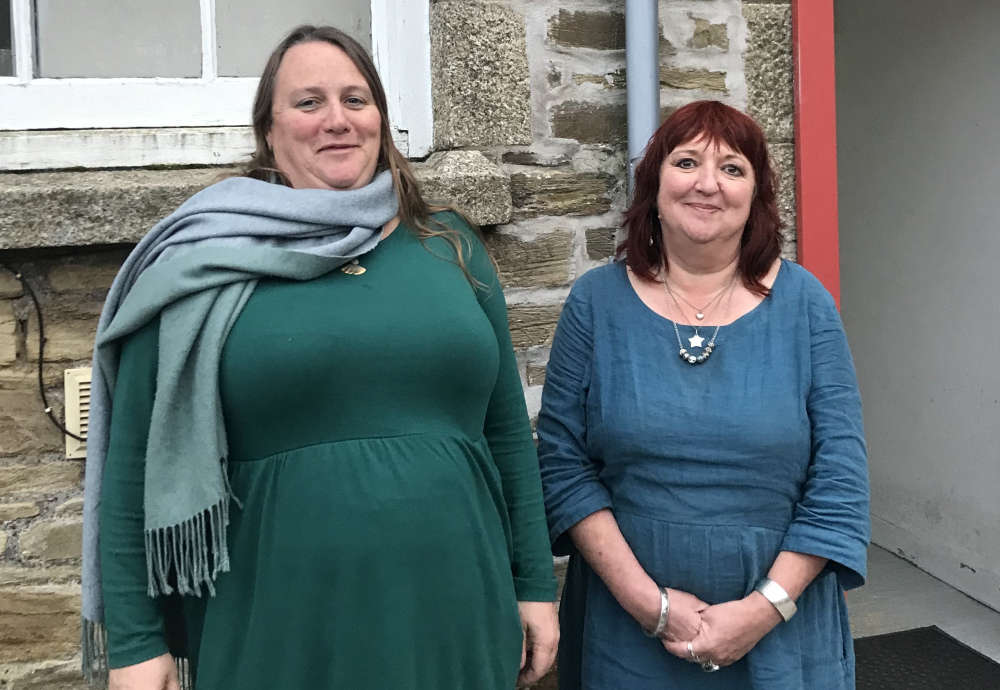 A new initiative is tackling health and social inequalities across Cornwall, using the transformative role that arts, culture and creativity can play in wellbeing.
Through the Duchy's Community Hubs, with funding from Public Health, Arts Well is providing training to support creative practitioners in delivering group sessions at their hubs to improve people's mental health and resilience within communities.
Community Hubs are central points located throughout the whole county – from St Just to Mullion, Bude to Millbrook - providing support and contact for communities, safe and warm places for people to socialise and take part in activities, where people can come together.
Arts Well's first practitioners' training session, which takes place on 30th November at The Elms in Redruth, will highlight the '5 Ways to Wellbeing' based on 'Connect, Be Active, Notice, Keep Learning, Give'; the training will provide hands-on activities and equip practitioners with methods, tools and materials to take back to their own communities.
Olivia Beckwith, Development Director for Arts Well UK CIC based in Penryn said:
"The outcome of our work through the Community Hubs will be improved health and wellbeing, reduced loneliness and isolation, an increased uptake of other community activities and reduction in use of primary care or other health care services. There is strong evidence of the value of engaging in creative activity, especially on mental health and wellbeing, loneliness and isolation and in addressing inequalities. Doing something creative is a useful resource for daily living and can help to keep us well."
Through Community Hubs and support for practitioners, Arts Well will create regular activity groups within areas of greatest need, supporting the Levelling Up agenda and the strategic health and wellbeing aims of Cornwall Council - contributing to a thriving, sustainable Cornwall, with vibrant, safe, supportive communities.
With Cornwall's suicide rate significantly higher than both the England and South West average, and self-harm rates being high in the South West, Arts Well's approach is helping address demand for overstretched statutory services and support people who are not reaching mental health provision.
Jayne Howard, Director of Arts Well added: "Our CIC plays a pivotal role in creative health in Cornwall and the Isles of Scilly, and our work with Community Hubs is building on our achievements to date, providing a range of support to services locally. We advocate for the role of arts, culture and creativity in improving health and wellbeing, providing training, advice, networking and professional development opportunities for people working in arts and health, as well as delivering our own projects.
Our training session on the 30th November will further equip art practitioners to deliver more activities in free sessions for groups in their communities resulting in a county-wide network of support."
Emma Wooderson, Operations Director at Cornwall Neighbourhoods for Change based at The Elms said:
"We are pleased to be hosting the upcoming training at The Elms. Cornwall is a vibrant, creative county, but some areas have more creative opportunities as they attract artists and arts organisations, whilst in others there is a lack of provision. Opportunities are often provided by freelance practitioners or micro-organisations on the basis of small grants, which often means that the activities are not consistently available or affordable for some.
CN4C have creative provision and a member of staff dedicated to creative activity, so Arts Well's support it will help add regularity, consistency and deepen the impact on health and wellbeing for the groups we work with. Whilst for other hubs, Arts Well's will support will result in access to creative activity on a regular basis for the first time."
Charlotte Hill, Director of Community Learning and Wellbeing at Newquay Community Orchard said:
"We are delighted to be working with Arts Well as part of our community hub offer. We are proud that Newquay Orchard is part of the Community Hub network and are looking forward to the training session with Arts Well. The exact nature of the opportunity at each Community Hub is co-created with the local community but can include all creative media – arts, crafts, music, digital media – together with an online offer.
The aim is for activities to run throughout the year, as our experience shows that consistency of provision across the year is important. Taking breaks over holiday periods is especially difficult for those for whom a group is an important social connection and their loneliness or isolation can be even more difficult to cope with at such times."
The activities running with practitioners through the hubs will be open groups, so people can join at any time, open to all, as well as receiving referrals by social prescribers and other community workers who will encourage people to attend.
For more information about Arts Wells provision, visit https://arts-well.com
To find out more about upcoming activities, find a list of community hubs here:https://cornwallvsf.org/connecting/services/community-hub-network/